This week at the
Creative Knockouts
challenge you need to use lots of layers on your project.
I used
Tea Mouse
from our sponsor, Sasayaki Glitter. What a cute little guy to have over for tea. I am not much of a tea drinker, so I would be sipping some coffee out of that tea cup while gobbling down those cupcakes.
You have a chance to win one image from Sasayaki Glitter for playing along. Which one will you choose?! Click the badge below to check them out and pick your favorites.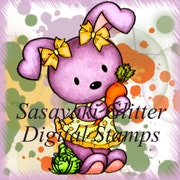 Card measures 5.5" x 4.25"
Spellbinders Decorative Labels 34
KI by Hampton Art cupcake charm